Bob Dylan & Paul Simon, Live 1999
I was just recently introduced to a live music blog,
Brooklyn Steve,
which has an overwhelming amount of shows to download. If you can sift your way through the Deep Purple and String Cheese Incident bootlegs, there are several great recordings to be found. The one that stands out most to me is a
soundboard
of a Bob Dylan and Paul Simon concert during their summer tour in 1999. They co-headlined, taking turns opening and closing the shows, and in between would play a few numbers together with each others' bands. I was lucky enough to catch the show at Summerfest in Milwaukee on 7/4/99, which is easily the most patriotic thing I've ever done, as well as being pretty gosh dang awesome. The show I saw had Dylan open and Simon close, and while I'm a bigger fan of Dylan, this worked well with Simon's more upbeat tunes coming
late in the evening
(wink). The order is flipped on this recording, but it's still great. The highlight, and most memorable moment of the evening for me, was the duet on The Sound of Silence. The Simon and Garfunkel (best name ever) version is beautiful, tender, even uplifting despite the darkness of the song. Dylan gives the song more gravity, yet Simon keeps the song from becoming too heavy and collapsing on itself. Really a perfect rendition, even Dylan's acoustic guitar and harmonica meshing well with Simon's world-beat band. The show I saw also had a medley featuring their shared influences, like Buddy Holly's That'll be the Day. This recording has nice versions of I Walk the Line and The Wanderer. They wrap things up together with Dylan's Knockin' on Heaven's Door, which features a few ad lib lyrical references to
Fats Domino's
I Hear You Knockin', popularized by
Dave Edmunds
. Always a good sign when Dylan is being playful.
On either end of the duets are great sets from each performer. Both were playing with top notch bands at the time. I believe the core of Simon's band, featuring two excellent guitar players, had been together for some time. In 1999 Dylan and his band were on an upward swing, Charlie Sexton having been in the group for about a year or so, joining string virtuoso Larry Campbell, former Jerry Garcia Band drummer David Kemper, and, Dylan's longest live collaborator, Tony Garnier on bass. This band would stay together for a few more years, hitting their peak around the fall of 2000 if my memory serves me well. Unfortunately Dylan's been trending downward for the past several years, so be sure to check out his set for a glimpse into the last great (or at least most recent) live peak of his Never Ending Tour.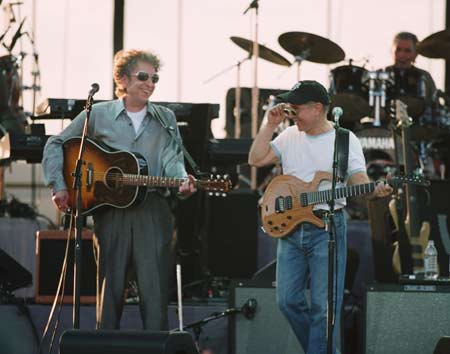 To contrast from the recording, here are a few videos from the tour, The Sound of Silence and Knockin' on Heaven's Door, but with Dylan's band rather than Simon's providing the backing. Top notch: